Towercoverage offers granular coverage area mapping and a suite of tools to make use of that data. The Towercoverage Powercode Integration sends an API request to  our Powercode Billing Server every time a new customer is created in Towercoverage. This request populates a new Lead Status Customer Account and adds a Ticket for your team within Powercode.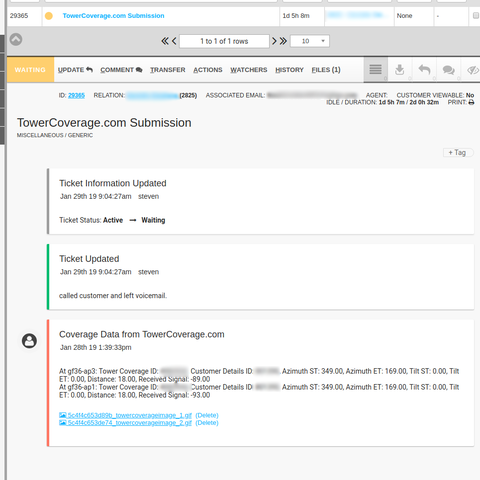 Above is an example Ticket generated by Towercoverage.
Activating Towercoverage Integration
Your Towercoverage integration can be configured within Powercode at Config > Third Party Integrations > Towercoverage.com.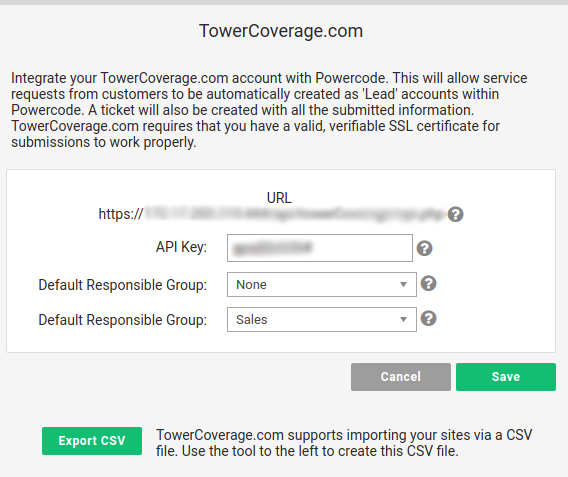 You must enter the API key and URL shown here within Towercoverage to activate the integration. Towercoverage also requires that you have a valid SSL certificate on your Powercode Server.
Here you can chose any Ticket Handler Groups you want to be notified when Towercoverage tickets come in. You may also export Powercode's Network Siteinformation and upload it to your Towercoverage account.
Webform Lead Generation
Towercoverage allows customers to set up a webform that allows leads to create their own accounts within Towercoverage and Powercode.
You can set up a form that connects to the Powercode API without Towercoverage. However, Towercoverage allows you to sort or reject customers that cannot be serviced by your current network.
FCC Network Availability Data
Towercoverage allows the generation of exact FCC service zone availability information. Powercode's native FCC form 477 reporting provides exact deployment details but can only provide service availability data in locations where you have customers with that service.