The ReadyNet Integration can be activated at Config > Third Party Integrations > ReadyNet
This page allows you to enter a password and username from rncontrol.com, to credential your Powercode Billing Server and receive ReadyNet information.  Please ensure the entered credentials have any necessary permissions in rncontrol.com.
Information Powercode receives from Readynet should populate on a ReadyNet tab on the Equipment page for any ReadyNet equipment you have.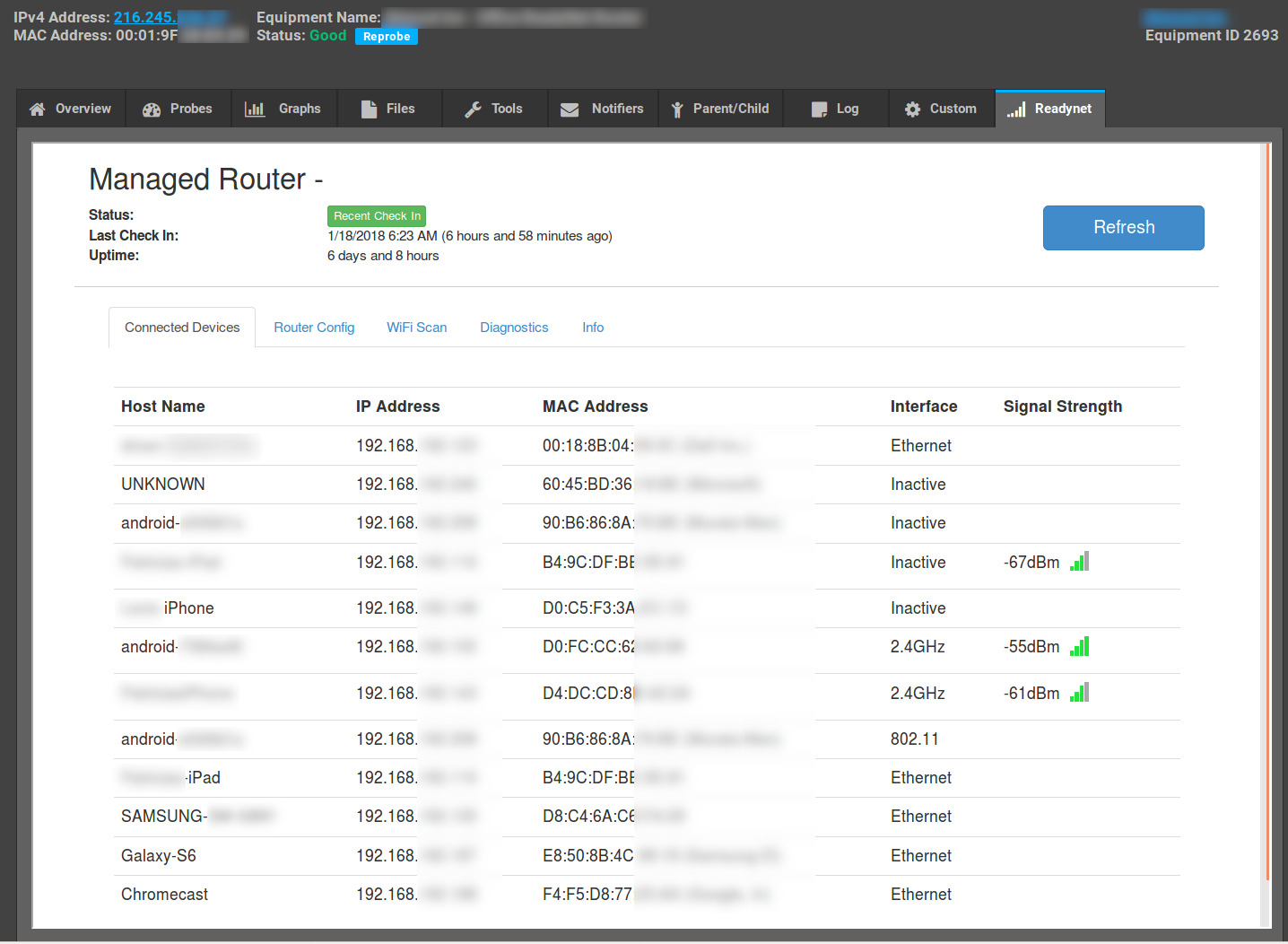 Troubleshooting
If you don't see ReadyNet tabs populate with information on the equipment page for a ReadyNet device:
Make sure that the MAC of the Equipment exists in the rncontrol.com account. This is the information that is pulled into Powercode and nothing will populate if it is missing.
Check: Config >Third Party Configs > Readynet

Make sure ReadyNet is enabled
Use your credentials to log in at rncontrol.com and re-enter them to Powercode hand.

Make sure the Equipment has a ReadyNet Device Type.
Confirm the Device Type uses one of the ReadyNet Monitoring tools under Items> Devices > Device Types
Create a custom report with this query and confirm you see results.

 Select COUNT(*) FROM OUI;

These are the MAC addresses in your OUI table the system uses to identify hardware. If there are no results please reach out to support to assist in populating your OUI table.

Check the Manufacturer field on the equipment page. It should read ReadyNet.

Verify that the first six digits of the MAC are a ReadyNet MAC: 00019F
If you have the correct MAC and the Manufacturer says Unknown check the output of the query in #5 and contact Powercode support.